Where the Kloofbears came from...
My Name is Evelyn de Reus and my home country was Norway, but I never knew about the Newfoundland dogs when I lived there.
After I married, I moved to South Africa where I met my first Newfie. We lived in a village called Kloof, 15 miles North of Durban, with our two young daughters, two Labradors and one cat.
One day I collected some children's books from the local library. In the evening I was reading for my daughters and one of the stories was about a Newfoundland dog playing with children. I was so fascinated by this story I had to read it again and again. I thought the dog was fictional as she was just too good to be true. A few weeks later I saw an ad for Newfoundland puppies in the local paper.
No one could stop me going to see these puppies, so my husband, two excited children and myself drove off. When we arrived, ten puppies came to greet us.
My life was never to be the same again.
We came home with one Landseer girl whom I called Lara.
And my love for the breed started.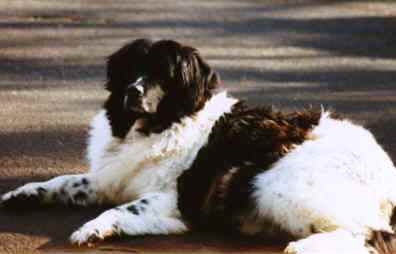 Lara (June 3, 1981 - October 19, 1993)
Lara was everything a Newfie should be and she fascinated me to no end. I would watch her play with my two daughters; she was game for anything and everything. She played leapfrog, hide and seek, swam with them in the pool and would pull them out if the game got too wild. She was a true nanny and I would feel safe when Lara was with them. If they did things she did not like she would bark and come running to tell me. When my youngest daughter, Monica, was born, Lara was everywhere Monica was. If Monica cried, Lara would come and whine at my side until I went to Monica. When Monica started to walk, she would hold onto Lara's fur and Lara would lead her around. Nothing would distract Lara to run away from Monica; she stood at her side all the time. I always tell Monica that Lara taught her how to walk.
Lara died at the age of twelve and a half years, half a year before we immigrated to America.
Lara had one litter of puppies, of which I kept one black female. The first Kloofbear, "SA CH Kloofbear Estrella". Estrella had two litters, I kept one Landseer female, "SA CH Kloofbear Sea Smudger's Cub" , unfortunately she never had puppies. I bought a female puppy of Cuddles' litter brother, whom I called "Bella Tombi of Kloofbear".
When I decided to leave South Africa and move to America, my three daughters, three Newfies and one cat came with me.
We now live in a quiet village in the northwestern corner of Connecticut.
And here at my home, "Crossfields", the Kloofbears continue.
I am a member of:
The American Newfoundland Club, The Bear Mountain Newfoundland Club
The New England Newfoundland Club and The Norwegian Newfoundland Club