CH KLOOFBEAR'S midsummer dream
"angel"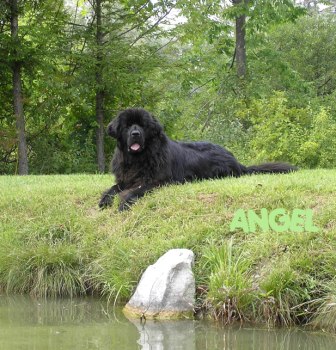 Angel is our great protector. She is true to her name and makes sure that we are all safe. She protects her property, her pond, her cars and her family. She does not like big birds flying over her home and will run after them looking up in the sky, sometimes colliding with trees and bushes on her way. In particular, she has an intense dislike for the heron when he comes to visit the pond and eat her fishes. When coming with me in the car she will bark at the cars behind me, most probably thinking they are trying to get us ;) She is very special to the whole family and everyone who comes to stay at our home for a while wants to take Angel with them when they leave.
ANGEL AT SHOWS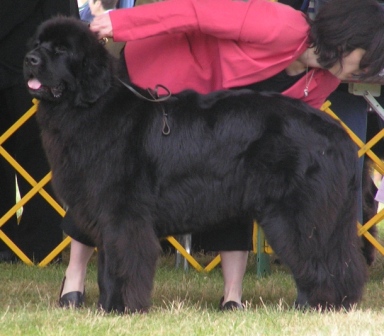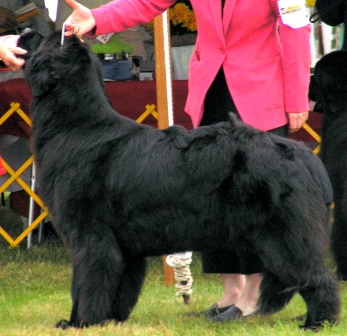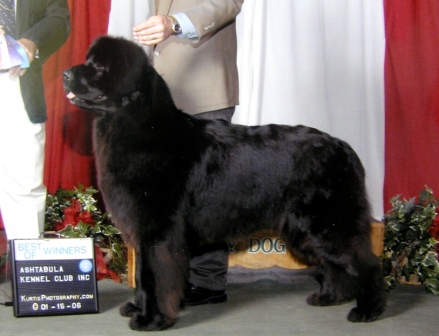 Angel was shown by Sam Mammano
NEW CHAMPION!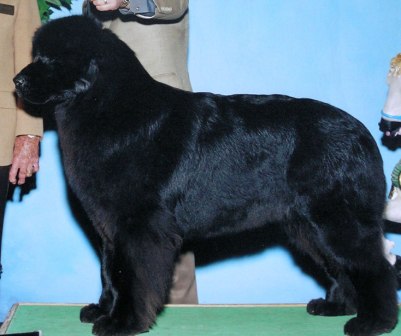 -----------------------------------------------------------------------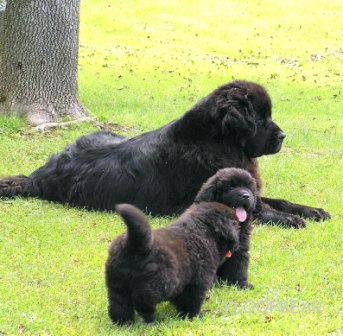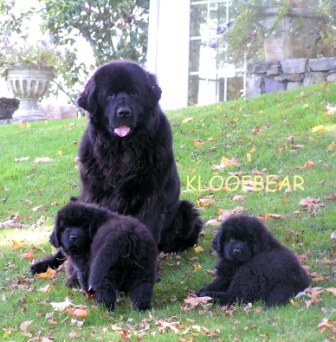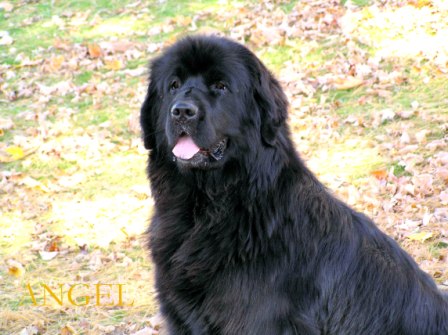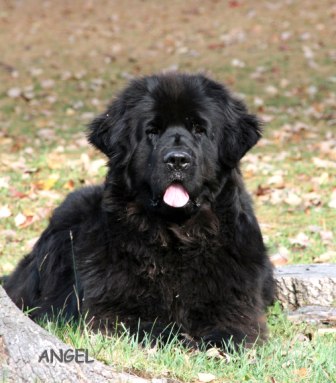 DOB June 30 2003
OFA: Hips Good, Heart Normal (cardiologist), Cystinuria Normal, Thyroid Normal,
Angel's pedigree:
Sire
AM CH Toad Hall Wizard of Oz
Black L/R
OFA
Sire
BIS CH Toad Hall Field of Dreams
Black/White

OFA

Sire
Muddy Creeks Max Factor
Black/White OFA
Sire
CH Muddy Creek Miles of Sun Valley
Landseer OFA
Dam
CH Muddy Creek Chloe
Black/White
Dam
CH Sabrina Mystical Vision
Black/White
Sire
CH Thorburns Lastin Impression
Black/White OFA
Dam
Walden Ponds Murray Hall
Black L/R OFA
Dam
CH Darbydale's Lila at Toad Hall
Black
Sire
CH Midnight Ladys Especially for you ROM
Black OFA
Sire
INT CH Twillin Gate Quomandor
Dam
Midnight Ladys Dorissimo
Dam
CH Darbydale Shakem Up ROM
Black
Sire
CH Seabrook Headmaster
Black
Dam
CH Pouch Cove Objection Overruled
Black
Dam
AM CH Kloofbear's Midnight Sun
Black L/R ROM
OFA
Sire
BIS Am/Can CH Seal Cove ESPEN til Kloofbear ROM OFA

Norway

Sire
INT CH Sikandi Aussie Bear
Black/White Hips Normal
Sire
Topmast Peter Pan of Ferntree
Black
Dam
AUS CH Planhaven Bonnie Bell
Dam
Amorada's Nothing Compares to You
Hips Normal
Sire
NCH Amorada's Just like Cowboy
Dam
NCH Amorada's A'Shantee
Dam
Larinkallion Disperin ROM
Black OFA, AM CH pointed

Finland


Sire
Larinkallion Rattopoika
Black
Sire
FIN CH Larinkallion Black Foot
Dam
FIN CH Larinkallion Gaheli
Dam
Larinkallion Geminorum
Black
Sire
FIN CH Larinkallion Caccacasa

Dam
FIN CH Geminorum Elettra